So it's almost that time of year again - I can already hear the cringing, Valentine's Day. I know, I know, everyone hates it, we turn our noses up at the corporate-manufactured, exclusionist holiday that it is. Truth be told, we've never been much for valentines - maybe a few dinners out when we were first dating and some small gifts, nothing extravagant, lacy or diamond-studded - And we definitely didn't
talk about it
knowing the general scorn for this poor pink heart holiday.
But this year, I'm taking it back. I mean, what's so wrong with a little bit of love? And I have a lot of love for a whole lot of people in my life. Now I know as a newlywed (with my six month anniversary on the 14th), I might meet some resistance from some single pals - but who says you can't lavish the love on other people in your life? Your mom, sister, colleagues all could benefit from a little warmth in this bleak winter month.
Not buying in? Well, I've come up with some fresh ideas for the much-abused chocolates, flowers and jewelry tradition that might convince you to celebrate a little. And there's absolutely nothing wrong with a little love for yourself.
First up, sweets without the red russell stover box...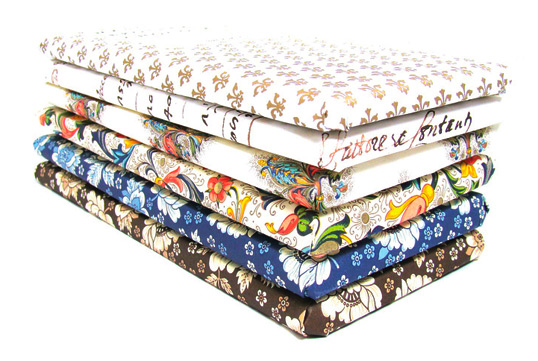 These beyond beautiful bars are from the bearded brothers that make up Mast Brothers Chocolate based in Brooklyn. Their commitment to hand-crafted, single-origin sweets has made them into pseudo-celebrities of the culinary world - chocolate rock stars (in a hipster-sort-of-way) Don't believe me? Check out
this video
on their site.
UK-based
Curious Chocolate
is home to even more single-origin chocolate champions. In addition to pure cocoa, they offer bars with decadent additions such as orange peel, ginger and mint as well as truffles, wafers and hot chocolate mixes. How perfect would the "Hopeful" bar be for a new relationship? I love that.
A sampler pack from
Moonstruck Chocolate
allows you to taste and compare Dominican and Venezuelan varietals.
Thomas Haas
' chocolate blends and barks are studded with dried fruit and nuts. The Chai Bark sounds incredible.
If haute chocolate (haha) isn't your style - maybe something a little more offbeat like these ramen noodle, tortilla chip and french toast studded bars from
Komforte Chockolates
. I used to love eating ramen 'raw' when I was a kid - I think these sound awesome.
For my pork-product-loving hubby - I think I may have to go with
Vosge's Flying Pig
featuring a solid milk chocolate piggy filled with applewood smoked bacon and salt. Also irresistible is the
bacon caramel toffee
.
For me, I'm perfectly satisfied with the crispy savory/sweet mix of World Market's
Sea Salt Dark Chocolate Bar
, and for the price, I can have several.
If you'd rather bake something with love - and lick the spatula while you're at it,
Williams Sonoma
has some divine mixes from ad hoc, Bouchon and Baked - all appear worth the extra effort! Or you could try
these
goat cheese truffles V suggested last year. Yum!
Anything I missed? Do you have a favorite splurge sweet?